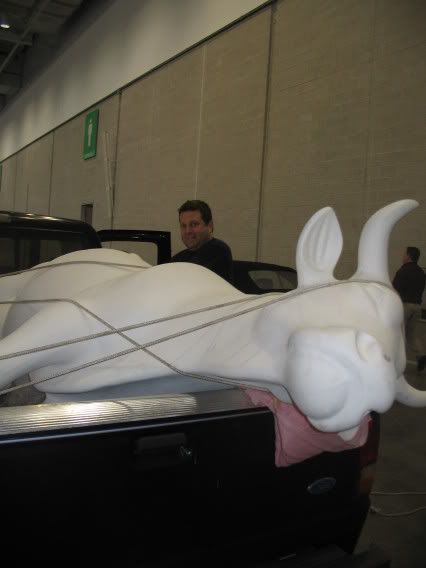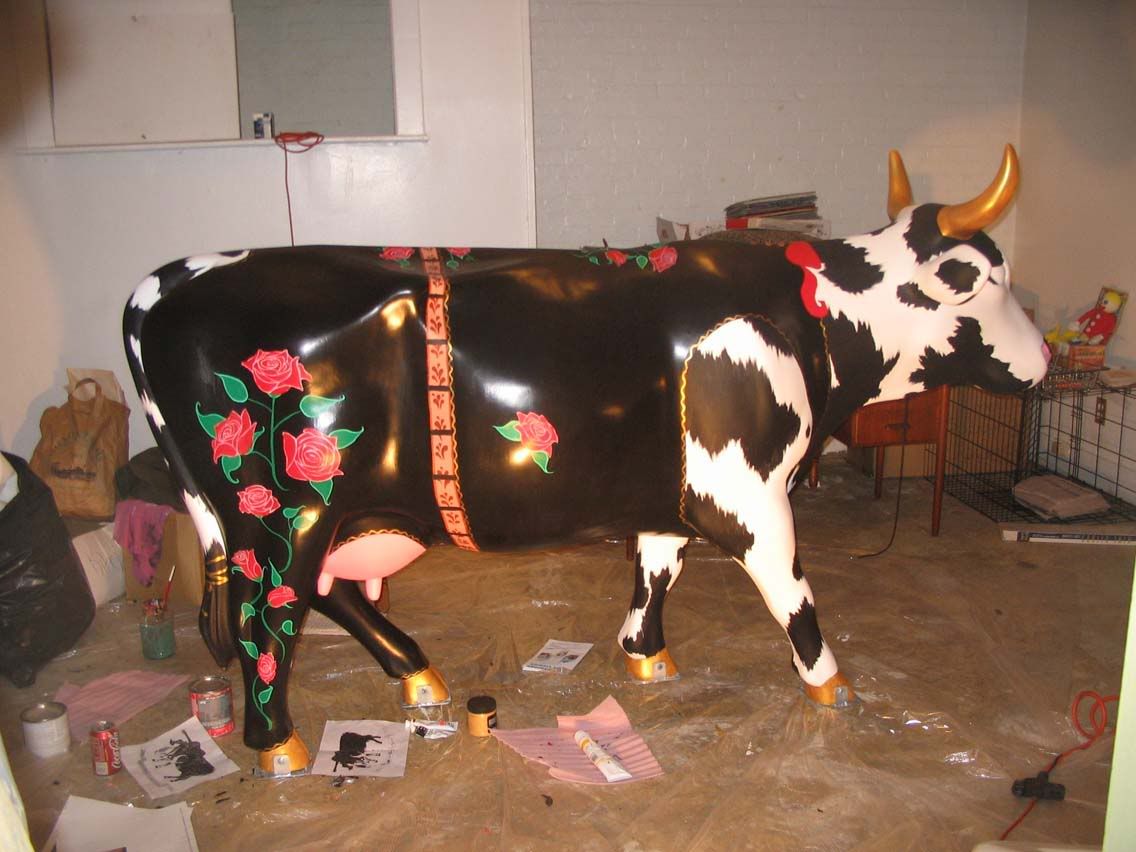 Moo-chas Gracias
cow was a fun twist on "muchas gracias" meaning many thanks in Spanish. This cow is inspired partly by lavishly embellished American western wear, Mexican densely embroidered clothing, and Mexican mariachis. The styles combined are a colorful, flamboyant mix of tradition, art and folklore. Envision a romantic singing "vaquero" (cowboy), what could be more appropriate? Moo-ey Guapo !
MOO-chas Gracias
was created by
Mary Galli
Mary Galli is a painter and creator of three-dimensional artwork who often reinvents "found" objects with a keen trash-to treasure sensibility. She has an enthusiasum for folk art, particularly Mexican, which clearly influences her work.

Mary Galli
works in a variety of mediums, from found objects to paper-mache, acrylics, oils, and watercolors. After graduating from Framingham State College, she worked teaching art & music appreciation at a day program for internationally renowned artists with disabilities. Currently she works independently specializing in creating individualized art instruction for people with special needs.
She resides in Somerville, MA and has been involved throughout the years in the Somerville Art Council's grant committee; Art Beat Festivals, and Windows Art Projects. Her fondness for travel and indigenous traditions merited her to become an assistant to one of the top folk art dealers in Boston, organizing multicultural artist demonstrations, international cultural tours, and community events.
It is unmistakable that in each one of Mary's paintings she is combining her love for art, music and folklore.
You can visit MOOchas Gracias in Boston's beautiful North End, she will be grazing at the Old North Church on Salem Street.